June 30, 2018
India reached in playground in a "Do or Die" Situation and faced hosts the Netherlands. Netherlands get the match underway. Sardar Singh immediately steals the possession but the Dutch get the ball back and it's a penalty corner for India! Brilliant run from the Dutch attackers but Sreejesh saves it for India. 10 minutes into the game and both teams are still goalless. Second Penalty corner for India but saved by the watchful Dutch defenders. At the end of the first Quarter India and Netherlands both are at 0.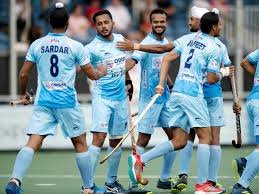 At the beginning of the second quarter Jarmanpreet Singh and Harmanpreet Singh provide no opportunity to the Dutch. Defense from both the teams has been terrific till then. Counter attack from India. After few minutes back to back penalty corners for Netherlands but good defense by Indian Team. Both teams were at 0-0 till the end of second quarter.
Wonderful start by Sreejesh. Mandeep Singh with a powerful shot but finds the Dutch goalie in the 35th Minute. The Dutch dominating possession at the moment but it has been brilliant from Indian defense and Sreejesh. At the end of the 3rd quarter both teams were searching for the goal.
Final Quarter Begins. Penalty corner for India. Mandeep singh break the deadlock and first goal for India. The Dutch are attacking aggressively but the Indian defense has been up to the mark. Brinkman levels it for Netherlands! Brilliant shot from back of the stick and the ball beats Sreejesh. India 1 Netherlands 1. Third Penalty Corner for Netherlands and missed again! Brilliant defense from India. At the End Both teams were at 1 -1.Match Draw.
India Qualify for the final of Champions Trophy and will face Australia on Sunday.